Picture it Differently: 
When you look at this picture what do you think? Does it represent God offering His love to you?
In the context of the Love of God Project it means something very different. By the end of the course you'll understand why.
Prepare to have your understanding transformed.
The Course's Content:
The Biblical definition of "Agape". Transforming our concept of God's love.

What is God's love like?

Why does God love humanity? 

Why did God create humanity?

Restoring the Gospel

Maintaining and sustaining the knowledge of His love.

Jesus' example and commandment.

Apostolic testimonies and instruction.

Ephesians 3:14-19:"Power to Grasp" His Love

Vital Benefits of knowing His love:

 "The Fullness of God"

Applications: God's love and your inner narrative; Love and Leadership
David is a Jewish believer. He and Elaine have led Restoration Fellowship in Glen Cove, NY, since the mid '70's. 
He received a Masters of Professional Studies from the Alliance Theological Seminary in Nyack, NY, and is ordained through The Lamb's Chapel (Moravian Falls, NC).
Elaine has been serving God's people along with her husband, David, for over thirty years in pastoral ministry and provides oversight and administration to the Love of God Project. She received her MA in Health Education and has studied at the Alliance Theological Seminary with a major in Old Testament.
Elaine and David are parents of three wonderful grown children: Shira, Jonathan and Benjamin.
David is one of the founders of SALT: a non-hierarchical covenanted fellowship of friends in ministry. The Love of God Project is affiliated with Tikkun, a Messianic Jewish apostolic network.
He is a prophetic teacher and worship leader who authored "God's True Love". This course was developed at the FIRE School of Ministry when it had a location in Manhattan, led by Dr. Michael Brown. The seminar has been given to leadership teams, churches, and ministry schools in the United States, Canada, and Israel.
The Course's Text: God's True Love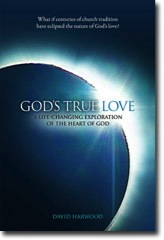 We expect everyone who takes the course to get "God's True Love". Other Supplementary Resources will be made available. Every student must bring their Bible to the sessions.
Prayer:
Each session will either end with, or include, times of prayer and ministry. Please pray for the course before you come.
… All of us need a greater revelation of God's love, and this essential book provides a rich resource full of edifying, life-changing truth. Dr. Michael L. Brown, President, FIRE School of Ministry
… when I read David Harwood's material and then had him teach seminars on this for our network, I found the most profound, accurate and impacting presentation in the field…  Dr. Daniel C. Juster, Director of Tikkun International
David Harwood is a deeply spiritual man with great character and an excellent ability to teach.   His book on the love of God is one of the most insightful books I have read in the last 10 years. With no reservation at all I recommend him and his ministry to the wider body of Christ. Lance Pittluck, Western Regional Director of the Vineyard USA
David's writings on the Love of God are both timely and valuable. His insight into God's word and his personal passion for the Lord Jesus fuel the fire that burns in this volume. I highly recommend it." Robin McMillan, Pastor, Queen City Church, Charlotte
(I) read your book. It was one of the best I have read this year. I love it. Harold Eberle, author (2009)
I love your work. Leonard Jones, Worship Leader, Songwriter
Brother David's ministry and book on God's unconditional love is revolutionary to all those wanting to go deeper with their Savior! The revelation of God's heart of love released to David will absolutely bring total liberty and joy to those seeking to know the fullness of that love for them. Bob Weiner, Weiner Ministries